Nuodi Lawyers' Lectures Begins
2022-04-29 817
---
In order to welcome the 2022 World Intellectual Property Day, and further strengthen the intellectual property protection awareness and layout ability of enterprises, lawyer Zhou Song from Shanghai Nuodi Law Firm was invited by Putuo Branch of Tongji Science and Technology Park to participate in the intellectual property special lecture series "Technology Empowerment, Knowledge Innovation" on April 24, 2022.
Lawyer Zhou Song focused on the most concerned hot difficulties of the enterprises, including understanding the scope and typical form of intellectual property, comparing the similarities and differences in ways of tort and consequences of IP, and exploring the prominent characteristics of commercial secrets and the effective protection methods. It was warmly welcomed by the Park entrepreneurs!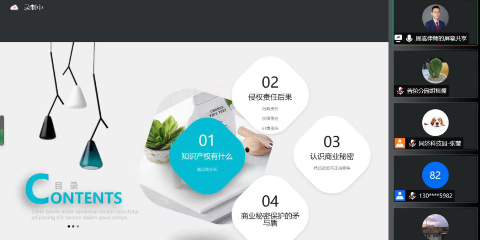 In order to help enterprises better tide over the crisis, lawyer Zhou Song from Shanghai Nuodi Law Firm was invited by Xiamen International Bank Shanghai Branch to give a lecture on How Enterprises in Shanghai Use Financial and Legal Means to Solve the Dilemma on April 28, 2022.
Lawyer Zhou focused on the risk prevention of the signing, implementation and change of commercial contracts under the epidemic, actively responding to the change and termination of labor relations, correctly handling the payment of employees' salaries during the epidemic, democratic procedures to help enterprises take the initiative to avoid legal risks, reduce costs and increase efficiency. The lecture received a warm response, and many entrepreneurs invited Lawyer Zhou to carry out further training for their employees afterwards.
Shanghai Nuodi Law Firm hopes to help more enterprises strengthen their awareness of intellectual property protection, and strengthen their prevention and resistance to various difficulties and risks in the context of the epidemic.