Leaders of Republic of Tuva Russian Federation Visit Shanghai Nuo Di Law Firm
2023-06-13 317
---
On May 22, 2023, Mr. Khovareg Vladislav Tovarichteovich, Head of the Russian Republic of Tuva, Mr. Donskikh Vladimir Alexandrovich, First Deputy Chairman, Mr. Buyan Alibertovich Tadianov, Head of the Regional Office of the Union of Russian Industrialists and Entrepreneurs in the Republic of Tuva as well as other distinguished guests visited Shanghai Nuo Di Law Firm. The two sides conducted full exchanges and exchanges on matters related to the investment and construction of Chinese-funded enterprises in the Republic of Tuva, Russian Federation, and took group photos.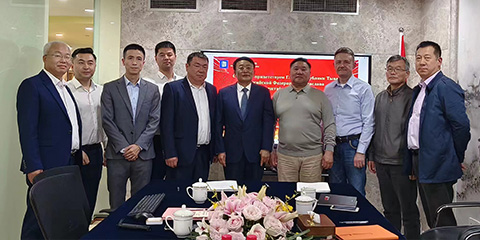 The Republic of Tuva is one of the subjects of the Russian Federation and is under the jurisdiction of the Siberian Federal District and the Eastern Siberian Economic Region. It is located in southern Central Siberia, south of the Sayan Ridge and north of the Tangnuula Mountains.
The main competitive advantages of the Republic of Tuva:
(1) It has geographical advantages in cross-border transportation. It is hoped to create an international air, road and rail corridor connecting Russia, Mongolia and China through the Republic of Tuva.
(2) The Republic of Tuva is rich in mineral resources, producing non-ferrous metals, rare earths, coal, asbestos, iron ore (distributed in the Kemchik River Basin and the Umicchik River Basin), gold (mainly in the form of placer gold), mercury and various building materials. Most of the rivers in the territory flow through the mountains, so they are rich in water resources (estimated at 8 gigawatts), in addition to more than 50 carbonate-containing hot springs.
(3) The Republic of Tuva is an agricultural republic specializing in the production of livestock products, and more than 80% of its products are livestock products. It is mainly manifested in horse breeding, deer breeding, camel breeding, fine wool sheep breeding and mutton and dairy cattle industry. About 5 million hectares of land for agricultural operations, which account for two thirds of the territory of the Republic. Among them, 500,000 hectares of arable land, 100,000 hectares of pasture and more than 4 million hectares of pasture.
(4) Tuva is located at the intersection of the taiga of Eastern Siberia and the semi-desert landscape of Central Asia, and this geographical location determines the richness of its flora and fauna. Forests cover more than 85% of the region's total area, and the vast majority are coniferous forests. There are about 3 million hectares of cedar forests on the territory, which accounts for 11% of all cedar forests in Russia. And there are many animal and plant populations, with 348 species of birds and nearly 100 species of mammals. It has certain medicinal value and collection value. More than 90% of the territory is hunting grounds. There are mainly sables, squirrels, wolverines, martens, bears, wolves, goats, musk deer and other animals.
(5) Stable socio-political situation without ethnic and religious conflicts.
The Republic of Tuva, Russian Federation, warmly welcomes Chinese investors to visit and invest and develop together!