Mercedes-Benz under pressure in China for quality problems
2019-04-19 234
---
The German auto maker Mercedes-Benz is facing rising distrust from the public in China after a series of quality problems being exposed by the media.
The market regulatory authority in Xi'an, Shaanxi Province, has reportedly opened an investigation into a local dealer for suspected quality problems after a car sold to a woman customer which was said to have existing engine problems.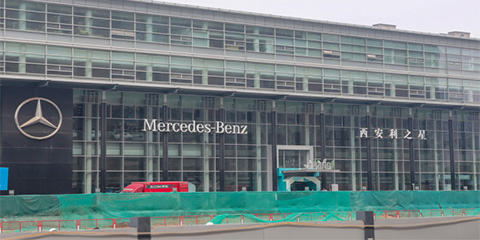 View of a 4S dealership store in Xi'an, Shaanxi Province, April 14, 2019. [Photo: IC]
An online video shows the customer questioning the salesman in tears at the dealership. The dealer has refused a refund or exchange her vehicle, even though the vehicle developed engine problems the day after she drove the vehicle home on March 27, according to the customer.
The incident has gained widespread attention on the internet, as the car dealer is suspected of selling problematic vehicles, as well as inappropriate charging.
Similarly, a Mercedes-Benz customers in Shenzhen has told Shenzhen TV the sunroof of the E200L he bought in October 2018 will open automatically whether there is a person in the car or not.
He claims the dealer has failed to fix it or find out the cause of the problem.
Another Mercedes-Benz car dealer in Shenzhen also failed to explain to an E300L customer what has been triggering the car's trouble light. The car was sold to the customer for less than two months.
Meanwhile, due to defective airbags, Beijing Benz Automotive Co. will have to recall 1,925 Mercedes-Benz vehicles as of May 31, 2019.
The recall involves its C-class sedans and GLC sport utility vehicles manufactured between January 27 and March 26, 2018, according to the State Administration for Market Regulation.
Source: China Plus