China taking firm steps to further open up its financial markets
2019-05-08 277
---
Note:The following article is taken from the Chinese-language "Commentaries on International Affairs".
China is releasing 12 new regulations aimed at further opening up its financial markets, according to Guo Shuqing, chairman of the China Banking and Insurance Regulatory Commission. These rules include removing asset requirements for foreign banks planning to set up foreign-funded 'legal person' banks and for foreign financial institutions holding stakes in trust firms, abolishing upper shareholding limits for a single Chinese-funded bank and a single foreign-funded bank in a Chinese commercial bank; and allowing foreign banks to conduct RMB business without having to obtain official approval.
These steps are in accordance with the 15 regulations on opening up the financial markets, which were brought into effect in April 2018. They will undoubtedly further open up China's financial markets, improve their business environment, encourage more foreign companies to tap into China's financial sector, and will help it become more competitive, more innovative, more market-oriented and more customer-oriented.
The financial sector is the stabilizer and driver for a country's economic development. The 12 new rules on the greater opening up of the financial markets are designed to further translate the overall plan of China's financial opening-up into practice. These rules have three distinct characteristics:
Firstly, they stress equality between domestic and foreign entities. The new rules will simultaneously abolish upper shareholding limits for a single Chinese-funded bank and a single foreign-funded bank in a Chinese commercial bank; and both Chinese and foreign-funded financial institutions will enjoy widened entry policies when investing in or setting up consumption financial companies. This puts financial institutions from both China and abroad on the same level and provides them with a market environment where fair competition is valued. It also meets the requirements of the newly adopted Foreign Investment Law.
Secondly, the regulations lower the threshold for entering the Chinese market for foreign financial institutions, which means removing asset requirements for them. This will not only attract more small but also strong foreign companies to conduct financial business in China and achieve complete fairness for foreign financial companies from all countries. It will also push smaller Chinese financial institutions to innovate and strengthen their competitiveness, which will in turn beef-up China's financial markets to better serve the real economy and stimulate market vitality.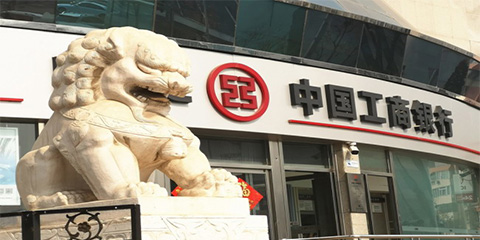 The front view of a branch of Industrial and Commercial Bank of China in Beijing, March 19 2019. [File Photo: IC]
Thirdly, the new rules expand the business possibilities for foreign companies. Foreign banks are allowed to engage in agency collection and payment services, as well as to carry out RMB businesses upon their establishment. These all represent the implementation of the national treatment measures for foreign investment before admission, and are expected to further widen the business scope for foreign companies in China.
After 40 years of reform and opening up in China, the financial sector went through many difficulties to get to where it is today. From mainly serving domestic economic development before China acceded to the WTO, to combining "going out" with "bringing in," the financial sector's service level, competitiveness, and business environment have improved dramatically, and the banking and insurance industries have formed a diversified structure composed of state, private and foreign ownerships. The shares of foreign-funded banks and insurance companies' total assets have reached 1.64 percent and 6.36 percent, respectively.
Even so, China's level of development and openness in terms of its financial industry is not yet consistent with its status as the world's second largest economy, and there is more room for improvement in financial opening up. As China digs deep into reforms, the financial sector will not only confront vested interests and break from the original structure, it must also adapt to China's fundamental need for high-quality development and a modern economic system. Opening up at a higher level is in line with the long-term interests of China's financial industry.
Last month at the second Belt and Road Forum for International Cooperation, Chinese President Xi Jinping pledged five measures to further open up China's market, one of which was expanding market access on a wider scale, in order to promote domestic supply-side structural reform with fair competition and cooperation.
The financial industry is essentially a competitive service industry. By further opening up to the outside world and participating in international market competition, it can better serve the real economy. This is an historic opportunity for Chinese financial institutions, even more so for foreign financial institutions that have entered or are about to enter China.
Source:China Plus