China to set up blacklist in express delivery services industry
2019-07-10 99
---
China is to set up a blacklist to punish misbehaviors in the express delivery services industry, including malicious deeds by customers and delivery men.
The move is part of the guideline issued by the State Post Bureau to promote the development of the private express firms on July 9.
The move is believed to to guarantee the legitimate interests of express delivery men.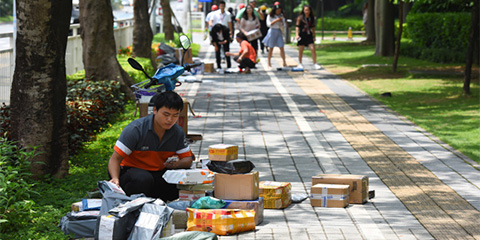 An express delivery man is sorting packages, in Shenzhen, on May 23, 2015. [File Photo: VCG]
Logistics workers appear vulnerable when facing conflicts with customers who have ways to file complaints, which include making a phone call to express firms, while delivery men lack methods of appealing to these complaints.
Xu Yong, a consultant in the industry, explained that due to privacy concerns, deliveries cannot be recorded via video, making it difficult to verify the complaints. He added that firms tend to deal with the complaints by placing the blame on the delivery workers.
In a recent case in east China's Shandong Province, a customer filed a complaint after discovering that his box of mangos was missing one fruit when it was delivered by an YTO logistic courier. The delivery worker later purchased another box of mangos for the aggrieved customer. However, her attempt to compensate the customer did not work. The company fined the employee 2,000 yuan. As a result, the delivery workers knelt down to plead for the customer's forgiveness. The incident stirred a heated discussion over the treatment of delivery workers.
Sun Kang from China Express Association called upon the logistics companies to protect the interests of the workers against malicious complaints.
China has seen a robust growth of the express delivery sector, which generated over 600 billion yuan in revenue last year, up by 21.8% year on year, according to the data from the State Post Bureau.
Source:China Plus