Shanghai Lingang New Area Development
2019-09-19 113
---
According to Shanghai Nuo Di Law Firm, the first batch of key projects were intensively signed and started in China (Shanghai) Pilot Free Trade Zone Lingang new area on September 12, 2019.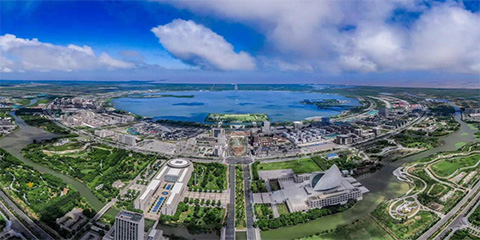 Shanghai Nuo Di Law Firm expects that in this October, satellite development base with 95,000 square meters of Chinese Academy of Sciences Moonlet Innovation Research Institute will be put into use in Shanghai Free Trade Zone Lingang new area. As the second phase project, the small satellite modular intelligent manufacturing and application innovation platform project will also land in the new area of Lingang. Later, the commercial satellite development base will be actively promoted to land in the new area of Lingang as the third phase project.
The second phase of the project signed a land transfer contract from May 30 this year, and is expected to obtain construction permits on September 20. "Lingang Speed" let us deeply feel the speed and efficiency of the new area of the Lingang free trade zone and fully enjoy the quality of services in the new area of Lingang.
The head of the Chinese Academy of Sciences Institute of Microsatellite Innovation said: "it is expected that in the next ten years, we will develop hundreds of satellites in the new area of the Lingang Free Trade Zone, effectively promote the development of space-related industries upstream and downstream and that economic benefits will reach ten billions dollars."
The representative of GLC Semiconductor Co, Ltd. also said: "the reason why we chose to invest in Lingang, not only because of its excellent industrial ecology and rich enterprise development resources, more importantly, because of the superior investment environment."
ENN micro gas turbine development project has just started in Lingang equipment industrial zone, and the project covers an area of 30 acres with the investment of 450 million yuan will be the future of ENN largest industrial base in the country. It took only five days to obtain the land to approval of construction land, construction land planning permit, construction project planning permit, construction project construction permit.
According to the Shanghai Nuo Di Law Firm, Lingang has developed for 16 years and forms the urban life supporting system with industrial community as its core. In terms of urban supporting system, Lingang has built 30.3 million square meters of housing units, laying a good foundation for the local people to live and work in peace and contentment. The 480,000-square-meter public-rental housing has been built, with a large number of living and service projects on the ground, resulting in a"4+X"supporting service system for housing, commerce, medical treatment and education, promoting the transformation of the industrial parks into industrial communities. In terms of supporting industries, a large number of infrastructure facilities, such as roads, transformer stations, gas power plants and sewage treatment plants, have built more than 400 kilometers of roads, and can generate 1.6 million atadditional kilowats of electricity generation in a long-term.
Shanghai Nuo Di Law Firm invites investors from all over the world to visit the Shanghai Lingang New Area!