Central Bank of China encourages financial institutions to increase support in the Shanghai Lin-gang New Area
2019-10-14 213
---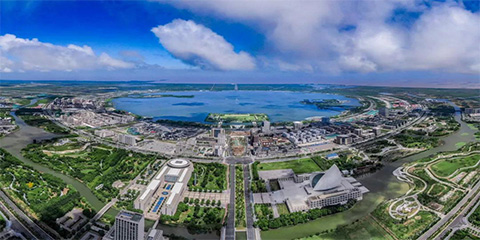 The People's Bank of China will conscientiously implement the decision-making and deployment of the CPC Central Committee and the state council, actively support the construction of a new port area, focusing on the following tasks:

First is to implement the policy measures of the central government to expand financial openness and support the implementation of the new area in Hong Kong in advance.Actively implement the Financial Commission issued 11 open measures to promote the expansion of the financial services industry.Major financial reform initiatives are piloted in the new area. Multinational companies are encouraged to set up global or regional funds management centers and other headquarters-type institutions in Shanghai.
The second is to enhance the ability of cross-border financial services, make full use of both domestic and international markets two kinds of resources.Continue to expand the opening up of the financial market in China, support enterprises in the new area with reference to the international rules, compliance in accordance with the law to carry out cross-border financial activities, draw on the international financial regulatory rules, to further simplify the cross-border business process quality enterprises, promote cross-border financial services facilitation.Support financial institutions to provide more convenient cross-border financial services to enterprises and non-residents in the new area, subject to risk control and business sustainability
Third, further promote the facilitation of trade and investment liberalization.In accordance with the state overall planning, service entities, risk control, step by step to promote the principle of steady progress in capital projects convertible.Explore higher levels of trade and investment facilitation measures in the new port area to facilitate trade in goods and capital account balance.
Fourth, strengthen financial support and services for key industries. To support the development of internationally competitive key industries in the new area of Lingang.Encourage financial institutions to increase support for key industries in the new area, in accordance with the principle of providing various types of financial support, including long-term credit support.
Fifth is to vigorously develop the fintech. Support financial institutions and large-scale technology enterprises to set up financial technology companies in the new area, explore the right way and path of artificial intelligence, Big Data, Cloud Computing, Blockchain and other new technologies in the Financial Field. Make full use of fintech to enhance financial supervision capacity.
Sixth is to continue to optimize the financial business environment.To support the development of Shanghai's financial talent center and to facilitate cross-border financial services for professionals working in the new area of Lingang. Support to accelerate the construction of financial rule of law, continue to vigorously promote the decentralization of Finance, accelerate the completion of the financial rules and international standards system and high-quality financial business environment.