Crime boss Sun Xiaoguo sentenced to death
2019-12-24 265
---
Sun Xiaoguo, a high-profile gang leader, was sentenced to death for multiple crimes in Yunnan province on Monday.
Sun had been given a death sentence by the Kunming Intermediate People's Court for rape, assaulting women, intentional injury and disturbance of public order in 1998, but the penalty was then reduced to death with a two-year reprieve by the People's High Court of Yunnan. The sentence was further cut to 20 years by the court.
Sun was freed in April 2010 after serving 12 years and five months in prison.
In October, the people's high court began the retrial of Sun's 1998 case, because it found the laws in the previous rulings might be wrongly applied after it reviewed some materials and visited people related to the case.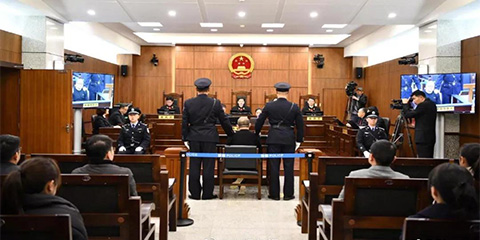 On Monday, the people's high court confirmed the wrongful application of the law, saying the mistakes should be corrected and the original conviction and sentence given to Sun by the lower court in 1998 should be upheld.
The court also released some details about Sun's case in 1990s. It discovered Sun had been sentenced to three years in prison for rape in 1995, but he barely served the sentence, as his parents helped him falsify medical records to escape the prison term.
When he was at large, Sun raped another four girls from April 1997 to June 1997. In November that year, he attacked two 17-year-old girls, injuring one seriously. In July and October 1997, he also disturbed the public order and assaulted others, causing three others injuries, according to the court.
The court said on Monday: "Sun despised the laws and his means of committing the crimes were extremely cruel. His behavior has brought great negative effects to the society and public security."
When the court was reviewing Sun's 1998 case, Sun had been sentenced to 25 years in prison by the Yuxi Intermediate People's Court in Yunnan in November for taking part in organized crimes from 2013 to 2018.
Considering Sun's incomplete serving of the sentence in 1995, his multiple crimes in 1997 and his gang-related offenses after leaving the prison, the people's high court finally decided to sentence him to death.
All of his private properties were also ordered to be confiscated, the court said.
Sun's case drew national attention in April when a local media outlet reported several gangs, including one led by Sun, were dismantled during a crackdown against organized crime in Kunming.
His case triggered widespread concern over corruption in the local judicial and prison systems after follow-up stories revealed Sun had escaped a death sentence after being convicted in 1998 of multiple charges and had been living as a free man.
Nineteen defendants, mainly civil servants, were sentenced to jail terms of various lengths for ties to Sun's case on Dec 15.
Source:CHINADAILY