Shanghai awards certificates to 21 regional HQ and 10 R&D centers
2020-04-09 94
---
Acting Mayor of Shanghai Mr. Gong Zheng on April 8, 2020, presented certificates at the Shanghai municipal government for the newly recognized regional headquarters of 21 multinational companies and 10 R&D centers.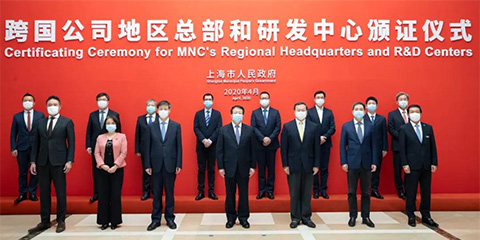 Most of the multinational companies awarded the certificate are from key industrial areas in Shanghai. Among them, there are 7 enterprises in the field of biomedicine, 4 enterprises in the field of digital information technology, artificial intelligence and intelligent manufacturing, 3 enterprises in the field of integrated circuit and new material technology. At the same time, there are many leading enterprises in the industry. Among the 31 enterprises, 2 are from the world's top 500 enterprises, and 3 have their headquarters of China, Asia Pacific and above in Shanghai.
This year, the Shanghai municipal government has introduced version 3.0 of the business environment reform plan, 32 measures to strengthen investment and promote investment, and 24 measures to further utilize foreign capital. Since the outbreak of the epidemic, Shanghai municipal and district leaders have paid visits to the regional headquarters of multinational companies and key foreign-funded enterprises in Shanghai. The municipal government has held nine round-table meetings on government-enterprise cooperation to help foreign-funded enterprises solve their practical difficulties and strengthen their determination and confidence to invest and take root in Shanghai.
At present, 730 regional headquarters and 466 research and development centers of multinational companies have settled in Shanghai. In the first quarter of this year, foreign investment in Shanghai reached us $4.669 billion, up 4.5% year on year. Shanghai continues to be one of the most attractive destinations for foreign investment in China and the world.
Shanghai Nuo Di Law Firm has been committed to providing professional legal services for foreign investment projects in Shanghai for more than 10 years since its establishment. Welcome your consultation and visit!