Victory in appeal
2019-12-25 304
---
On the afternoon of December 24, 2019, Ms. Ni and her son Mr. Cheng came to Shanghai Nuo Di Law Firm and solemnly handed over a bright red silk banner as an award to lawyer Li Yu, with strong thankfulness. It turns out that lawyer Li helped them in an ownership dispute case in the second instance to overturn the original judgment, turning defeat into victory!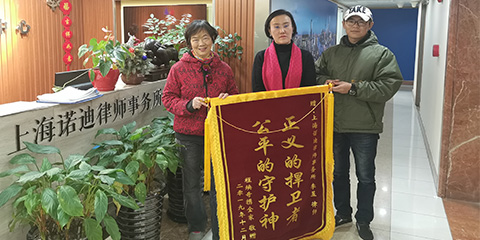 The cause of this case is another division, testate succession dispute case, according to the final judgment of that case, the real estate in question is owned by Mr. Cheng, who pay another heir Mr. Ni RMB 900,000 yuan.In the process of compulsory transfer, the individual income tax generated more than RMB 170,000 yuan, and Mr. Cheng paid. Because of the tax dispute, it triggered this case.
The court of first instance held that the tax involved was based on inheritance and was determined by the effective judgment of the court, which was essentially different from the market transaction and was not inevitable. Moreover, the court of first instance concluded that Mr. Ni had made substantial concessions in the entity rights and interests, so it was more fair and reasonable for Mr. Cheng to bear the tax involved.Thus, Mr. Cheng lost the first instance.
After that, Mr. Cheng and his mother, Ms. Ni, approached Li Yu, a lawyer at Shanghai Nuo Di Law Firm, and petitioned. After accepting authorization, Lawyer Li carefully examined the relevant facts and evidence, and argued fiercely in the second instance of court : since the effective judgment holds that the house belongs to Mr. Cheng, of course, he has the right to apply for changing the property right registration to be under his name, hence inevitably produce tax involved, according to the national tax policy and what's more, tax payer stated in the tax bureau notice also explicitly Mr Ni. In view of the national tax authority referring to normal market transaction and doing the tax collecting, also the two sides do not have agreement on it, so the tax shall be borne by Mr Ni.
The judgment of the second instance finally supported lawyer Li 's claim and revoked the judgment of the first instance. The tax involved and the corresponding interest are judged to be borne by Mr. Ni.
As we all know that it is very rare to overturn the 1st instance judgement. All lawyers from Shanghai Nuo Di Law Firm always uphold the merits of fairness and justice to help clients to ease their worries. We strongly believe that if the lawyer career is thriving, then the rule of law develops, then the nation prospers.