Online Teaching During Coronavirus Epidemic in China
2020-03-12 1367
---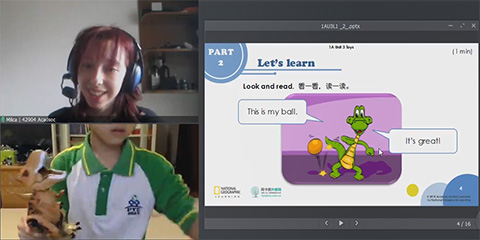 On March 6, the Ministry of Education of the PRC issued a notice to improve the work of "suspending classes, not suspending learning" in primary and secondary schools. This notice requires that the starting time of universities, primary and secondary schools, kindergartens and other schools should continue to be postponed in principle, and local education departments shall continue to provide guidance services for home-based learning of primary and secondary students.
Q&As about Suspending Classes, not Suspending Learning

As per the head of the Ministry of Education, here are some official responses to further understand the announcement.

Q1: Why should the Ministry of Education propose "suspending classes, not suspending learning"?

A1: Due to the need to prevent and control the epidemic of COVID-19, the school has been delayed and students are unable to attend classes at normal school hours. The current online learning is a temporary emergency measure, which aims at providing learning resources and supportive services to the majority of students and solves the problem.

Q2: How shall we interpret the learning content and methods of "suspending classes, not suspending learning"?

A2: "Suspending classes, not suspending learning" doesn't refer to online classes in a simple sense, nor just a study of the school curriculum, but a kind of learning in a broad sense. As long as the contents and methods can help students make progress, they shall be available. Undoubtedly, there shall be various ways of learning. In some places, the online teaching is just one of those ways of "suspending classes, not suspending learning", an exploration of the IT-based teaching.
Q3: What about the online courses issued by some local organizations?


A3: It is not required that all teachers shall record and broadcast courses online to carry out "suspending classes, not suspending learning". First of all, schools shall make full use of the existing high-quality online courses. And then, if necessary, the local education departments can organize a small number of outstanding teachers to record some courses as the complement and share some excellent resources.

According to the disciplines of online learning, all localities should study the courses suitable for online learning and avoid duplication. If all teachers are forced to make online courses, it would be a waste of resources and a burden to teachers, which is why it shall be avoided.

Q4: How shall we prevent it from burdening students?

A4: To implement the policy of "suspending classes, not suspending learning", each place should distinguish the actual situation of the student of different stages and grades and the characteristics of online teaching.

There are no unified and rigid requirements for online learning in the lower grades of primary schools, so the parents and students can choose to do it or not on a voluntary basis. As for the other grades of students, specific time limits are set so as to avoid excessively long online learning time. At the same time, students must not be forced to punch in and upload learning videos every day to prevent unnecessary burden. All the schools shall guide students to arrange their study and rest time reasonably, and guarantee their physical and mental health by increasing the rest interval, doing visual exercises and strengthening physical exercises. It is strictly prohibited for kindergartens to carry out online teaching activities.

Q5: How shall we establish the links between home-based online teaching and school teaching?

A5: Due to individual difference in objective condition and the independent study ability, the effect of home-based learning will be different among students. To prevent home-based learning from completely replacing classroom teaching in schools, all schools should give a placement test for students after the formal start of school, then formulate a targeted teaching plan. For students who have already studied at home via the Internet, the schools shall ensure that each student has mastered what they have learned, and then carry out the new classes; and for those who have not taken the online course in the lower grades, schools shall start from scratch.

In particular, all schools shall strengthen the learning guidance and care for the children of the front-line personnel and the left-behind children in rural areas.
Q6: How shall we deal with the network congestion in online teaching?

A6: To ensure the normal operation of the network is the basic premise for online teaching. Due to the large number of students in China and the great difference of network basic conditions in different places, the network congestion may be occurred in the same period of all the centralized online learning. All localities shall proceed from the reality, make analysis and judgment according to the local network situation, service ability, student distribution, etc., and guide the use of the Internet in a staggered manner.

Q7: How shall we standardize the training behavior of off-campus training institutions?

A7: As of now, all the training institutions must stop off-line training activities, and shall not start classes without authorization. All the local governments shall standardize online training activities. Over-standard or test-oriented teaching activities, or teaching in other forms that are in violation of law, will be investigated and seriously dealt with.
Source : OneTubeDaily
Shanghai Nuo Di Law Firm has accumulated legal experience of more than 13 years and please contact us for legal help.
Address: 32/F, Federation of Industry Building, No.55 East Yan'an Road, Shanghai, China
Tel: 02153085022 Fax: 02153082933 Website: http://www.shndlaw.com