Chinese and Foreign Reporters to CIIE Visit Lin-Gang Special Area
2019-11-20 282
---
The 2nd China International Import Expo (CIIE) has ended successfully. More than 4,300 registered reporters, including nearly 1,000 foreign reporters, were attracted to give coverage of CIIE. To help Chinese and foreign reporters better understand Shanghai's urban development, CIIE News Center designed 8 off-site interview routes, which were welcomed and praised by Chinese and foreign reporters. As the only route with an all-day schedule, Lin-gang Special Area received keen attention and registration from Chinese and foreign reporters.
By visiting Yangshan Port's Phase-4 Automatic Container Terminal, Future LAIV, Lingang Sci-Tech City, Shanghai SmartState Technology and other distinctive locations, reporters experienced the world leading technology and directly felt the speed of a special area in China that "sprints from the start".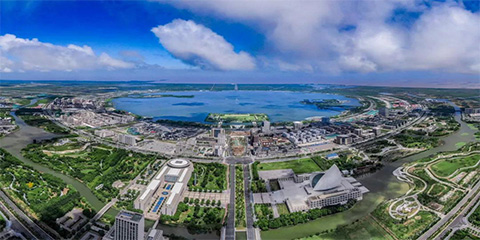 A reporter from China Radio International Editorial Office under China Media Group said that with the good weather and high visibility, it was unquestionably a good day to interview and take photos in Yangshan.
A Cambodian reporter said that container throughput between Shanghai and ASEAN increased by 18% this year, which boosted ASEAN's confidence. A reporter for Hong Kong's Economic Information and Agency said what saw in the exhibition hall was different from outside the hall.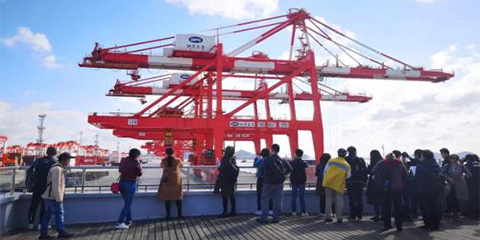 The reporters were interested in the network usage at the container terminal, the condition of shipping lines, the possibility of applying unmanned driving technology, the cargo throughput between China and ASEAN, and the flow of cargo in and out of the container terminal during CIIE.
A financial reporter for the Xinhua News Agency said she was interested in the off-site interview during last CIIE, but couldn't make it last year. This year, she specially set aside a day for Lin-gang Special Area and the visit was inspiring. Before, she only knew Lin-gang Special Area as a national strategy. After visiting several cutting-edge domains, she got a deeper and more intuitive understanding of Lin-gang. In the future, she can look for deeper topics and entry points in some macro reports.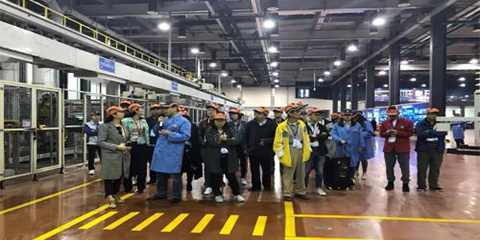 Ms. Corinne Marthe Abele from Germany's Bundesagentur fuer Aussenhandelsinformation said she had followed the German projects in Lin-gang for a long time, such as the Fraunhofer Project Center for Smart Manufacturing at Shanghai Jiao Tong University, etc. The visit provided her with a good source of information. Now she plans to write a detailed report about Lin-gang in the future.
A Cambodian TV reporter said that in addition to reporting on CIIE, they also focused on the latest developments in China, including China (Shanghai) Pilot Free Trade Zone. This interview provided the right material for his report. He believes that media in Southeast Asia, such as Cambodia, are greatly influenced by Western media, and many people's perceptions of China are based on Western discourse. This visit to Shanghai for CIIE will help them better understand China.
Once the visit was over, a reporter for China Transport News immediately released a video report on the visit to Yangshan Port Phase-4 Automatic Container Terminal in Lin-gang Special Area, joking that "the crane grabs a container like grabbing a doll. I just felt in person the style of a world-leading smart container terminal."